mode select
comm
system
access
home
Chief Communications Officer Karen Riggins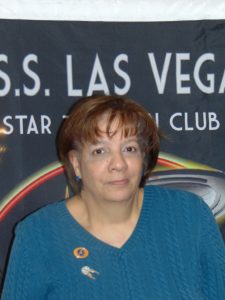 My duties are to keep Crew Members, Officers and all interested parties (Starfleet, other beings in the known universe) informed of the  events and discussions of 'The Ship"  known as the USS Las Vegas Star Trek Fan Club. . I record the minutes of our meetings and some event notes. I then send the minutes to the Captain Robert Niwa who uploads them to the Yahooo. group site for all interested to read.
I also announce at the meetings "Birthday Greetings". I send personal emails to those who are celebrating a birthday or other special event on behalf on the club. I also promote the club by talking to people and giving out our business cards . I went to a concert to see Whoopi Goldberg at Treasure Island Hotel and Casino. She asked for questions and commnents,  I got up and mentioned our club being the largest and most active in the state. I went up by the stage and gave her our club business card. She said "Oh Cool, I will check this out, and put it in her pocket. There were 2800 people in the audience, They all know about us. I announced this to our club at the next meeting and everyone was happy.
I joined the club because I love Star trek The original series is my favorite.